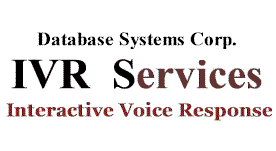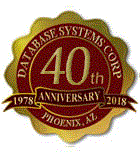 Interactive Voice Response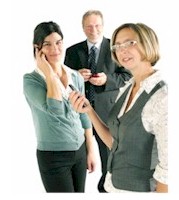 Database Systems Corp. (DSC) is a recognized leader in providing custom IVR services and phone system.

Interactive voice response (IVR) is a technology that automatically answers incoming calls using computer telephony integration (CTI).

An IVR answers the inbound call by playing a greeting message and presenting the caller with a menu of options. Calls can be processed completely by the computer phone system or can be intelligently routed to call center agents.

Organizations use interactive voice response technology to provide customers with fast and efficient services while reducing the cost of providing information. Callers can use an IVR to obtain information or to process transactions 24 hours a day, 7 days a week.

Interactive voice response solutions and services include the following:

DSC has been in business since 1978, providing computer software and solutions including phone applications, particularly for the call center industry.

Contact DSC to learn more about our Custom Interactive Voice Response (IVR) services and turnkey systems.


---
Johns Hopkins University

"The mission of The Johns Hopkins University is to educate its students and cultivate their capacity for life-long learning, to foster independent and original research, and to bring the benefits of discovery to the world."

Researchers at Johns Hopkins University utilize our IVR hosting services and interactive voice response data center to manage automated surveys of student volunteers. Johns Hopkins is collecting behavioral information over an extended period of time for long term health care research.
---
Custom Interactive Voice Response Services
Database Systems Corp. provides a wide array of Interactive Voice Response applications for clients located in the U.S. and Canada. The following are some of these applications broken down into categories.


Business Management Services

Employee Management Service

Store Locator Phone Service

HRD Phone Services

Employee Testing By Phone

Virtual Secretary

Bill Payment Services

Voice Over Talent

Automated Phone Directory

Professional Phone Services

Legal Phone Services

Medical Phone Services


Testing and Interviewing

Surveys Over The Phone

Telephone Interviews (CATI)

Clinical IVR Surveys

Telephone Survey

Customer Satisfaction Survey


Customer Services By Phone

Help Desk Solutions

Self Service IVR

Virtual Help Desk


Personal Phone Services

Phone Coaching Services

Money Transfer IVR


Community Phone Services

Transportation Phone Services

Information Phone Services

Utility Phone Services

IVR Registration Services

Emergency Management IVR


Business Application Services

Real Estate Phone Services

Financial Phone Services

TPV Third Party Verification

Security Guard Monitor

---
Contact Database Systems Corp.
Contact Us Today to learn more about our interactive voice response systems and software including development and IVR outsourcing services.


Other DSC Applications
Medication Reminders
Telephone Reassurance
Latchkey Kids
Reminder Call Service
Emergency Calls
Church Calls
School Calls